Rosemary Oil
Manufacturers Of Mint Products | Essential Oils | Herbal Extracts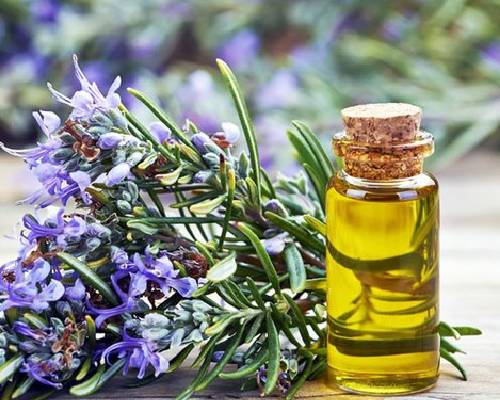 Trustworthy Rosemary Oil Manufacturers
Silverline Chemicals, being one of the reliable Rosemary Oil Manufacturers in India, offers an impeccable range of mint products, essential oils, and organic oils to meet your distinct demands. Rosemary Oil is an evergreen essential oil extracted from the flowering tops and leaves of the Rosemary herb by employing a steam distillation process. This has been used in traditional or Ayurvedic medicines for thousands of years. Thanks to their effective results and properties, Organic Rosemary Oil now has a significant role in making skincare, personal care, food and pharmaceutical products.
We are one of the trusted Rosemary Oil Manufacturers, employed with the modern resources that make us capable of understanding distinct customer demands and meeting them with our consistent supply. We incorporate a hygienic methodology to ensure clients get exceptional and unadulterated quality.

Botanical Name: Rosmarinus officinalis
Constituent:
Cineole
Thujone
Borneol
1, 8-Cineole
α-pinene
Camphor
Camphene
b-pinene
Limonene
Bornyl acetate
Benefits Of Rosemary Oil:
Thanks to the anti-spasmodic and anti-inflammatory properties present in Rosemary Oil, it works wonderfully for healing muscles and joint pain.

Natural Rosemary Oil

has immune-boosting disease combating qualities and has been used for curing a common cold, cough and flu since ancient times.

Organic Rosemary Oil

is as good for your skin as it is for your health. It has anti-ageing properties and can fight against signs of ageing.
Moreover, using it as advised can help you get clear skin free from acne, scars, dark spots and blemishes.
The oil is no less of magic for your hair and can boost hair growth and nourishment.
Moreover, the aroma of

Rosemary Essential Oil

has calming properties that can reduce stress, anxiety and headache and is used exceptionally in aromatherapies.
Rosemary Essential Oil can improve brain power, concentration and memory.
Using Rosemary Oil as advised can help detoxification and prevent your risk of getting affected with liver damage.
It also has antimicrobial properties that make

Pure Rosemary Oil

a popular choice for removing bad breathe and promoting healthy gums and oral health.
Cautions:
Always use it after diluting it or use it with a carrier oil.
Not recommended for pregnant and breastfeeding mothers.
Keep it far away from contacting sensitive areas.
Take expert advice before using it in any way.
Uses Of Rosemary Oils:
Food
Cosmetics
Pharmaceuticals
Personal Care
Aromatherapies
Dietary Supplements
Beverages
Confectionaries etc.
Where Can You Find Natural Rosemary Oil?
We are the best from where you will find natural and pure Rosemary Oil in bulk for any of your commercial and industrial applications. Being counted among the top-notch Pure Rosemary Oil Suppliers and Exporters from India, we leave no stone unturned to ensure that you will not be disappointed with the quality and get the best. Call us to enquire more.
FAQ'S
Silverline Chemicals is one of the prominent Rosemary Oil Manufacturers in India that extract Rosemary Oil from different parts of the plant, including leaves, bark, flowers, twigs, and fruits, by the process of steam/hydro distillation. We have an in-house manufacturing unit equipped with advanced resources, modern techniques, and skilled professionals to maintain quality, longevity, and natural properties. We have bulk quantities ready to dispatch in our inventory for you. So don't go here and there? We are a call away from you.
Here is the list of various products we offer:
Indian Basil Oil
Lime Oil
Isoeugenol Oil
Levomenthol Oil
Lemongrass Oil
Clove Oil
Eucalyptus Oil
Lavender Oil
Here is the list of various health benefits of Rosemary Oil that makes it the choice of all.
Help to uplift your mood.
Reduce overall stress level.
Improve your sleep habit
Cure insomnia and mild headaches
Act as a natural repellent
Reduce skin irritation and inflammation
Improve skin appearance.
Boost the immune system.
To maintain the Rosemary Oil properly, here are the various steps that help you to keep it safe.
Store in dark glass bottles to avoid sunlight
Store them in a refrigerator.
Keep the cap of the bottle tightly closed
Avoid storing on easily-damaged surfaces
The Rosemary Oil is harmful if you don't use it properly. So it is better to learn about the safety precautions first. Here are some safety tips for you.
Keep them away from children and pets.
Don't exceed 30- to 60-minute intervals while diffusing
Diffuse in well-ventilated areas.
Never use photosensitizing Rosemary Oil before UV exposure.
Always wash your hands after using them.
Yes. It is necessary to dilute the Rosemary Oil while using it. If you use Undiluted Rosemary Oil, it will cause harm to your skin and also cause severe irritation or sensitization. It is important to dilute the Rosemary Oil to decrease the health risks.
If you prefer our Rosemary Oil, don't worry about their safety. We are committed to offering 100% organic Rosemary Oil that helps you to a great extent. Also, we guide you on how to use it so that, no adverse effects on your body. So switch with our Rosemary Oil and relax about its safety.
Copyright © 2022 Silverline Chemicals | All Rights Reserved.