Indian Basil Oil
Manufacturers Of Mint Products | Essential Oils | Herbal Extracts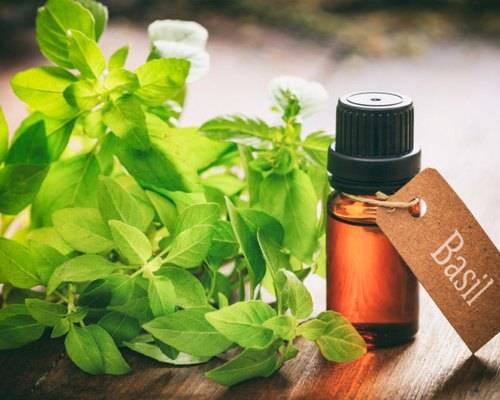 Leading Indian Basil Oil Manufacturers
Searching for one of the top-tier Indian Basil Oil Manufacturers in India? Silverline Chemicals have garnered a credible position in the competitive market by offering 100% Organic Essential Oils. Derived from the leaves of "The Royal Herb - Basil", Indian Basil Oil has a fresh floral and herbaceous scent and sweet taste that makes it a powerful component for the flavouring and fragrance industry. Not just the aroma and the flavour that distinct this essential oil, but Indian Basil Oil also has excellent medicinal properties that can heal different health disorders.
Being enriched with vitamins and flavonoids, Tulsi Oil maintains healthy skin, hair and health. Processed precisely with proper hygiene in mind, the Indian Basil Oil is safe for various applications. Besides being strict and committed to processing, we thoroughly pack them to prevent damage during transit.

Botanical Name: Ocimum Basilicum
Constituents:
Citronellol
Linalool
Myrcene
Pinene
Ocimene
Terpineol
Linalyl
Acetate
Fenchyl acetate
Trans-ocimen
1, 8-cineole
Camphor octanane
Methyl eugenol
Eugenol beta-caryophyllene
Benefits Of Indian Basil Oil:
Have age-defying properties that reduce wrinkles and fine lines.
Clear out pores and help you get naturally glowing skin.

Natural Indian Basil Oil

can ward-off skin irritation, normal wounds and acne, thanks to the anti-inflammatory properties of Indian Basil Essential Oil.
Boost skin cells metabolism and ensure better skin firmness and health.

Pure Holy Basil Oil

can cure common headaches, hypertension, nervous tension, stress and depression.
Relieve respiratory and digestive discomfort.
Used widely for massaging skin that further improves skin complexion and firmness.
The

Organic Indian Basil Oil

is also used in culinary applications for improving taste and quality.
Packed with powerful antioxidants that protect the body tissues from free radical damage.
Slow down the release of sugar in the blood and help manage diabetes.

Pure Basil Oil

promotes healthy guts and heals an upset stomach.
Application Area Of Organic Indian Basil Oil:
Their uses spread to various industries and applications. Being reputable among the best Basil Essential Oil Manufacturers, we bring premium and organic quality for:
Food
Cosmetics
Perfumeries
Pharmaceuticals
Ayurvedic Medicines
Personal Care Products
Home Care Products etc.
Find The Best Indian Basil Oil Online With Us!
We offer a comprehensive range of essential oils, and one among them is Indian Basil Oil which complies with industry norms and has the noteworthy quality and medicinal characteristics. Being credible among the best Indian Basil Oil Suppliers and Exporters from India, we keep the best foot forward to meet bulk orders. You can submit your bulk requirements to discuss more.
FAQ'S
Silverline Chemicals is one of the prominent Indian Basil Oil Manufacturers in India that extract Indian Basil Oil from different parts of the plant, including leaves, bark, flowers, twigs, and fruits, by the process of steam/hydro distillation. We have an in-house manufacturing unit equipped with advanced resources, modern techniques, and skilled professionals to maintain quality, longevity, and natural properties. We have bulk quantities ready to dispatch in our inventory for you. So don't go here and there? We are a call away from you.
Here is the list of various products we offer:
Indian Basil Oil
Lime Oil
Isoeugenol Oil
Levomenthol Oil
Lemongrass Oil
Clove Oil
Eucalyptus Oil
Lavender Oil
Here is the list of various health benefits of Indian Basil Oil that makes it the choice of all.
Help to uplift your mood.
Reduce overall stress level.
Improve your sleep habit
Cure insomnia and mild headaches
Act as a natural repellent
Reduce skin irritation and inflammation
Improve skin appearance.
Boost the immune system.
To maintain the Indian Basil Oil properly, here are the various steps that help you to keep it safe.
Store in dark glass bottles to avoid sunlight
Store them in a refrigerator.
Keep the cap of the bottle tightly closed
Avoid storing on easily-damaged surfaces
The Indian Basil Oil is harmful if you don't use it properly. So it is better to learn about the safety precautions first. Here are some safety tips for you.
Keep them away from children and pets.
Don't exceed 30- to 60-minute intervals while diffusing
Diffuse in well-ventilated areas.
Never use photosensitizing Indian Basil Oil before UV exposure.
Always wash your hands after using them.
Yes. It is necessary to dilute the Indian Basil Oil while using it. If you use Undiluted Indian Basil Oil, it will cause harm to your skin and also cause severe irritation or sensitization. It is important to dilute the Indian Basil Oil to decrease the health risks.
If you prefer our Indian Basil Oil, don't worry about their safety. We are committed to offering 100% organic Indian Basil Oil that helps you to a great extent. Also, we guide you on how to use it so that, no adverse effects on your body. So switch with our Indian Basil Oil and relax about its safety.
Copyright © 2022 Silverline Chemicals | All Rights Reserved.