Clove Oil
Manufacturers Of Mint Products | Essential Oils | Herbal Extracts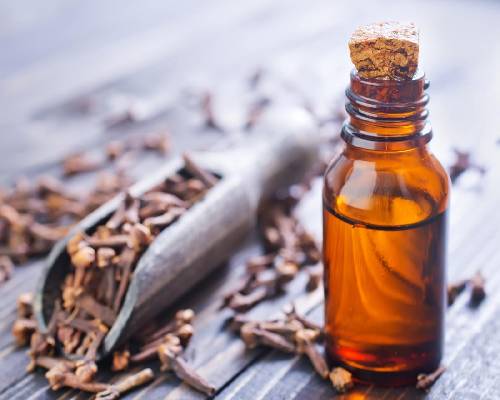 Considerable Clove Oil Manufacturers
Silverline Chemicals is one of the fastest-growing Clove Oil Manufacturers in India. Yielded from the leaves and buds of clove using steam distillation extraction process, Clove Oil has a pale yellow colour with water consistency. Moreover, the intense spicy smell of the oil makes it practical for perfumes, mulled wines and liqueurs and dental products. Furthermore, it is loaded with excellent health benefits and promotes healthy digestion and respiratory health.
Being packed with antiseptic properties, Clove Oil can effectively cure wounds, scabies, fungal infections and other injuries. Our state-of-the-art manufacturing facility is equipped with cutting-edge machinery that helps us excellently and hygienically extracts Organic Clove Oil conforming to defined industry standards. We keep focusing on maintaining purity, consistency, effectiveness and natural quality of products intact.
Botanical Name: Syzygium aromaticum
Constituents:
Eugenol
Iron
Calcium
Potassium
Phosphorous
Vitamin A & C
Hydriodic acid
Benefits Of Clove Oil:
Packed with germicidal properties, Organic Clove Oil is good for teeth and fight dental pain, sore gums and mouth ulcers.
Wonderfully boost the immunity and make you capable of fighting against diseases like cancer and heart ailments.
Thanks to antiseptic properties, Natural Clove Oil heals common cuts and fungal infections faster.
Due to its high anti-inflammatory properties, it also helps cure a common cold, cough, sinusitis and more such issues.
Work excellently for your skin by keeping it moisturized and soothing irritation.
Clove Leaf Oil is a powerhouse of skin benefits that heal and prevent acne and fight signs of ageing.
Moreover, it effectively reduces dark spots, blemishes and acne scars.
Fight dandruff, itchy sensation on the scalp and promote healthy hair growth.
Pure Clove Oil also has qualities that prevent premature ageing.
The cooling effect present in Clove Essential Oils makes it suitable for easing headaches.
Uses Of Clove Oil:
Food And Beverage Industry: Organic Clove Oil is used for food, confectioneries and flavoring teas and other beverages like wines.
Pharmaceutical Industry: It holds a matchless place in the medical industry and oral care products for their antibacterial and anti-inflammatory properties.
Cosmetic Industry: Due to its fragrance and unmatched skin benefits, Clove Oil is used in making skincare and hair care items that keep your skin protected and maintain its elasticity.
Where To Get High-Quality And 100% Pure Clove Oil?
Being reputed among Laung Oil Suppliers and Exporters from India, we are the master of the trade that you can count on to get your bulk orders satisfied. Your safety and satisfaction are valuable to us, and we do our level best to keep your distinct needs satisfied. Ping us your bulk requirements to discuss further.
Let's Connect For A Quick Discussion
Get Goodness Of Mother Nature With Silverline Chemicals
Copyright © 2022 Silverline Chemicals | All Rights Reserved.