Saw Palmetto Oil
Manufacturers Of Mint Products | Essential Oils | Herbal Extracts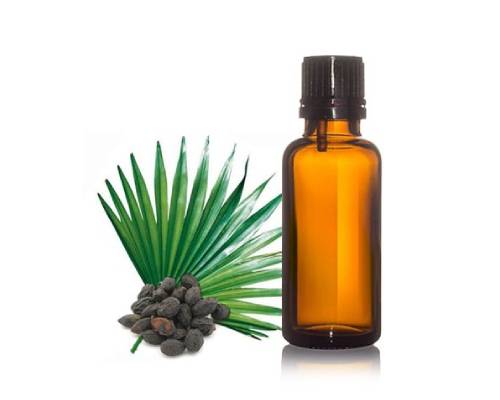 Best Saw Palmetto Oil Manufacturers
Silverline Chemicals – one of the well-known Saw Palmetto Oil Manufacturers in India, has garnered a credible position by offering a premium range of natural oils. Extracted from purple berries of Saw Palmetto Fan Palm using the cold pressing technique, Pure Saw Palmetto Oil has dark yellowish-orange colours and properties that make the oil suitable for skincare, hair care and healthcare products. The Saw Palmetto Oil is 100% pure and free from contaminants.
Processed by experienced personnel at our in-house facility using high-quality ingredients, Saw Palmetto Oil is safe for Food, Pharmaceutical, Cosmetic, Personal Care and many other industries. We incorporate rich manufacturing expertise in the process that helps us lay focus on factors like product quality, hygiene and safety. We also maintain packaging standards to avoid damage to the product during transit.
Botanical Name: Serenoarepens or Sabal Serrulata
Constituents:
Fatty Acids
Oleic Acid
Lauric Acid
Myristic Acid
Glycerides
Fatty acid methyl esters
Phytosterols
Fatty Alcohols
Benefits Of Saw Palmetto Oils:
Stabilize testosterone levels.
Useful in the treatment of reproductive disorders.
Keep skin plump and its moisture locked for hours.
Used widely to make body lotions and skin moisturizers.
It can effectively cure several health disorders and improve quality of life.
Suitable for aromatherapies because of their quick healing characteristics.
Natural Saw Palmetto Oil contains components that support prostate health.
Improve urinary tract functioning by improving urine flow and enhancing sexual drive.
Saw Palmetto Oil consists of qualities that boost collagen production that increase skin stability while protecting against harsh environments.
Balance hormone levels and combat hair loss problems.
Organic Saw Palmetto Oil treats conditions like sore throat, cough, cold, headache and other sleeping disorders.
Thanks to its anti-inflammatory properties, Natural Saw Palmetto Oil can decrease inflammation.
Uses Of Saw Palmetto Oil:
Food
Cosmetic
Personal Care Items
Perfumes
Hair Care Products
Pharmaceuticals
Aromatherapies
Caution:
Keep it out of reach of children.
Use only as per the expert advice.
Avoid contact with sensitive parts.
Pregnant and breastfeeding women should take it only after expert advice.
Buy Online Saw Palmetto Oil At Wholesale Rates!
You can find high-quality and 100% Organic Saw Palmetto Oil at industry-leading prices. Over the years, we have earned a large client base and appreciated among top Natural Serenoa Repens Oil Suppliers and Exporters from India. Need more assistance? Dial our number now.
Let's Connect For A Quick Discussion
Get Goodness Of Mother Nature With Silverline Chemicals
Copyright © 2022 Silverline Chemicals | All Rights Reserved.