Tagetes Oil
Manufacturers Of Mint Products | Essential Oils | Herbal Extracts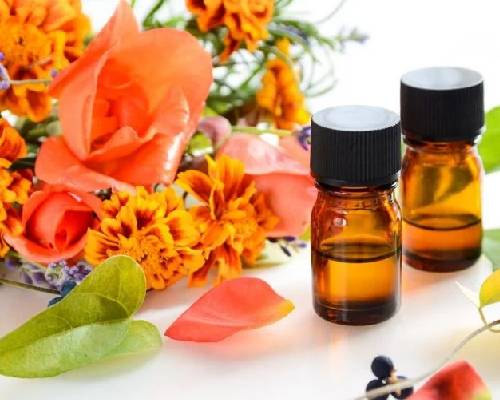 Paramount Tagetes Oil Manufacturers
Silverline Chemicals is one of the top-notch Tagetes Oil Manufacturers in India. We have been committed to extracting essential oils following industry standards. Tagetes Oil is extracted from the herbaceous Tagetes Minuta plant's flowers and herbs, using a steam distillation process. Tagetes Oil is safe to use across various applications from fragrance to the health industry for its health benefits, skin benefiting properties, healing qualities and light, sweet odour.
We have the most sophisticated technology that we use to extract and formulate 100% Pure Tagetes Minuta Oil according to the defined industry standards. Our experts thoroughly process, test and pack the Tagetes Essential Oil without compromising quality and ensure that clients get the matchless range at the competitive rates possible. We pack them in standard and customized packaging for ensuring maximum safety during transit.

Botanical Name: Tagetes Minuta
Constituents Of Tagetes Oil:
β-caryophyllene
(Z)-β-ocimene
Limonene
(Z)-ocimenone
(E)-ocimenone
(Z)-Tagetone
Myrcene
(E)-Tagetone etc.
Benefits Of Tagetes Oil:
Prevent the growth of microbes and protect against several infections.
Treat many common health ailments like cold, cough, colic, mumps and more.
Have wide nutritional and pharmaceutical applications.

Natural Tagetes Oil

can cure viral infections.
Act as a disinfectant and protect against various airborne diseases.
Keep insects at bay and help with fungal infestation.
Pure Tagetes Oil is suitable for curing several skin and chest infections.
Used widely in perfumery for making perfumes or deodorants.
Natural Tagetes Oil also used to flavour various soft drinks and food recipes.

Organic Tagetes Oil

has antimicrobial and antiviral compounds that act as antiseptic, which make it safe for healing open wounds and cuts.
Clear out mucus and phlegm and is used for curing respiratory infections.
Used in making creams and body lotions.
Applications:
Food
Nutraceutical
Perfumery
Pharmaceutical
Cosmetics
Personal Care
Caution:
Avoid contact with sensitive areas.
Keep out of reach of children and pregnant or nursing women.
Use only as per the expert advice.
Tagetes Oil – Where To Buy?
We are indeed the one-stop where you should reach to buy Tagetes Essential Oil. Keeping quality and customer satisfaction intact has helped us come a long way. We are now popular among the top-tier Pure Tagetes Oil Suppliers and Exporters from India. Ring us! Our experts will be in touch with you shortly.
FAQ'S
Silverline Chemicals is one of the prominent Tagetes Oil Manufacturers in India that extract Tagetes Oil from different parts of the plant, including leaves, bark, flowers, twigs, and fruits, by the process of steam/hydro distillation. We have an in-house manufacturing unit equipped with advanced resources, modern techniques, and skilled professionals to maintain quality, longevity, and natural properties. We have bulk quantities ready to dispatch in our inventory for you. So don't go here and there? We are a call away from you.
Here is the list of various products we offer:
Indian Basil Oil
Lime Oil
Isoeugenol Oil
Levomenthol Oil
Lemongrass Oil
Clove Oil
Eucalyptus Oil
Lavender Oil
Here is the list of various health benefits of Tagetes Oil that makes it the choice of all.
Help to uplift your mood.
Reduce overall stress level.
Improve your sleep habit
Cure insomnia and mild headaches
Act as a natural repellent
Reduce skin irritation and inflammation
Improve skin appearance.
Boost the immune system.
To maintain the Tagetes Oil properly, here are the various steps that help you to keep it safe.
Store in dark glass bottles to avoid sunlight
Store them in a refrigerator.
Keep the cap of the bottle tightly closed
Avoid storing on easily-damaged surfaces
The Tagetes Oil is harmful if you don't use it properly. So it is better to learn about the safety precautions first. Here are some safety tips for you.
Keep them away from children and pets.
Don't exceed 30- to 60-minute intervals while diffusing
Diffuse in well-ventilated areas.
Never use photosensitizing Tagetes Oil before UV exposure.
Always wash your hands after using them.
Yes. It is necessary to dilute the Tagetes Oil while using it. If you use Undiluted Tagetes Oil, it will cause harm to your skin and also cause severe irritation or sensitization. It is important to dilute the Tagetes Oil to decrease the health risks.
If you prefer our Tagetes Oil, don't worry about their safety. We are committed to offering 100% organic Tagetes Oil that helps you to a great extent. Also, we guide you on how to use it so that, no adverse effects on your body. So switch with our Tagetes Oil and relax about its safety.
Copyright © 2022 Silverline Chemicals | All Rights Reserved.